Redstone Collective
Postmodern jukebox pop swing band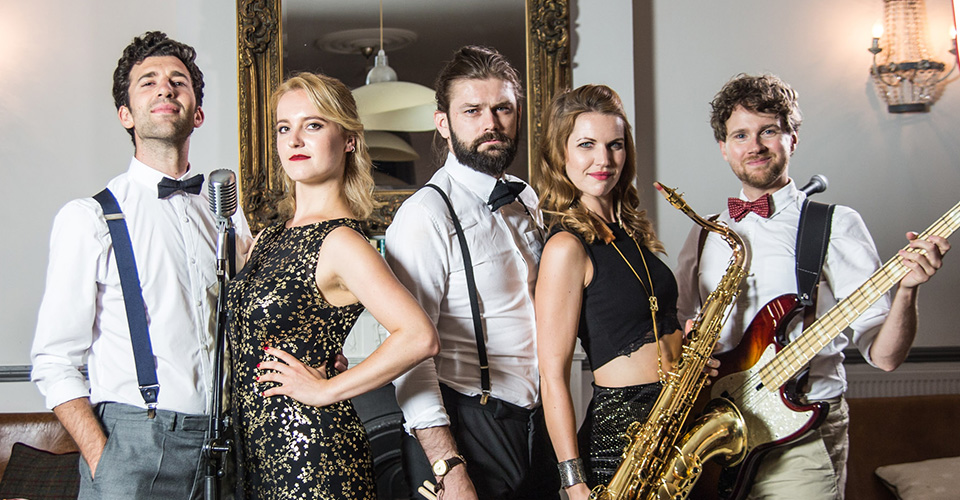 Popular songs, irresistible swing
Purveyors of good-looking pop swing, Redstone Collective are a London postmodern jukebox wedding band and leading Gatsby band.
Perfect to act as a vintage wedding band, Great Gatsby band or 1920s corporate function band.
Having honed their skills as the resident band at the BBC Club & Grange St. Paul's they are now one of the most sought after alternative Gatsby-esq bands in the UK.
Think post modern electro-swing Beyonce and retro remixed Rihanna alongside some toe-tapping tunes from Elvis and Ray Charles. What is not to boogie at?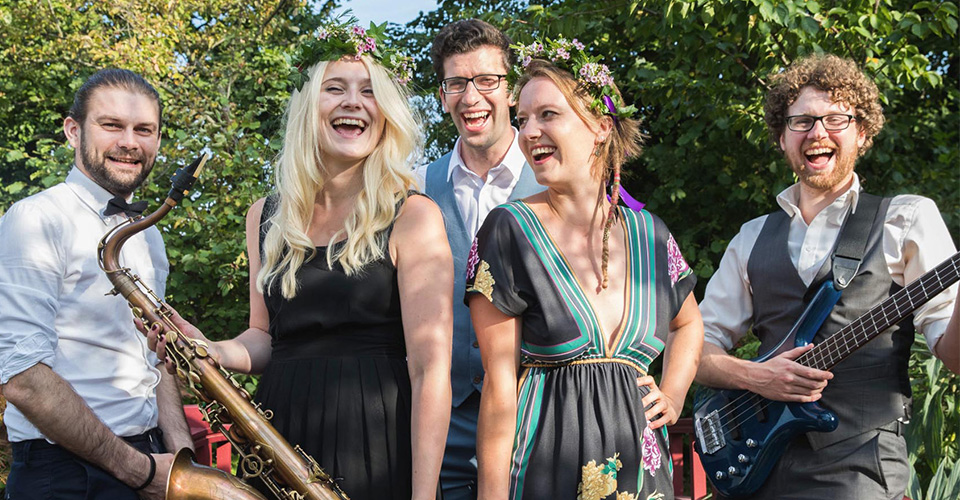 Vintage, Gatsby music with a postmodern twist
Taking inspiration from the lavish 1920s parties that Gatsby threw and stirring some postmodern songs in to the mix, Redstone Collective offer remixes and re-arrangements of some of your favourite chart hits in an infectious electro-swing style.
And yes, we were doing this postmodern jukebox wedding band thing before postmodern jukebox were doing it!
The band's unique repertoire is constantly expanding but some of the party favourites are as follows:
A Little Less Conversation — Elvis
A Little Party Never Killed No Body/Don't Mean a Thing
All About that Bass - Meghan Trainor
Bills - LunchMoney Lewis
Black Betty — Ram Jam / Hound Dog — Elvis
Call Me Maybe — Carly Rae Jepsen (vintage version)
Candy Man — Christina Aguilera
Crazy in Love — Beyonce (electro-swing version)
Do Your Thang — Basement Jaxx
Hey Ya — Outkast
Hit the Road Jack — Percy Mayfield
I Believe in a Thing Called Love - The Darkness
I Bet That You Look Good on the Dance Floor — Arctic Monkeys
I Got a Woman — Ray Charles
I Got Life — Nina Simone
I Wan'na Be Like You - Robert and Richard Sherman
Ignition - R. Kelly
Lovely Day — Bill Withers (wind down)
Mambo No 5 — Lou Bega (feat. the Fresh Prince)
Mess Around — Ray Charles
Moondance — Van Morrison
Move On Up — Curtis Mayfield
My Baby Just Cares For Me — Nina Simone (romantic)
Pencil Full of Lead — Paolo Nuttini
Reet Petite — Jackie Wilson
Roar — Katy Perry (vintage version)
Seven Nation Army — The White Stripes
Shake it Off - Taylor Swift
Shout - The Isley Brothers
Sorry - Justin Bieber
Teenage Dirtbag - Weezer
That Man — Caro Emerald
The Boy Does Nothing — Alesha Dixon
Twisting the Night Away — Sam Cooke
Umbrella — The Baseballs
Valerie — Amy Winehouse
You Know that I'm No Good — Wanda Jackson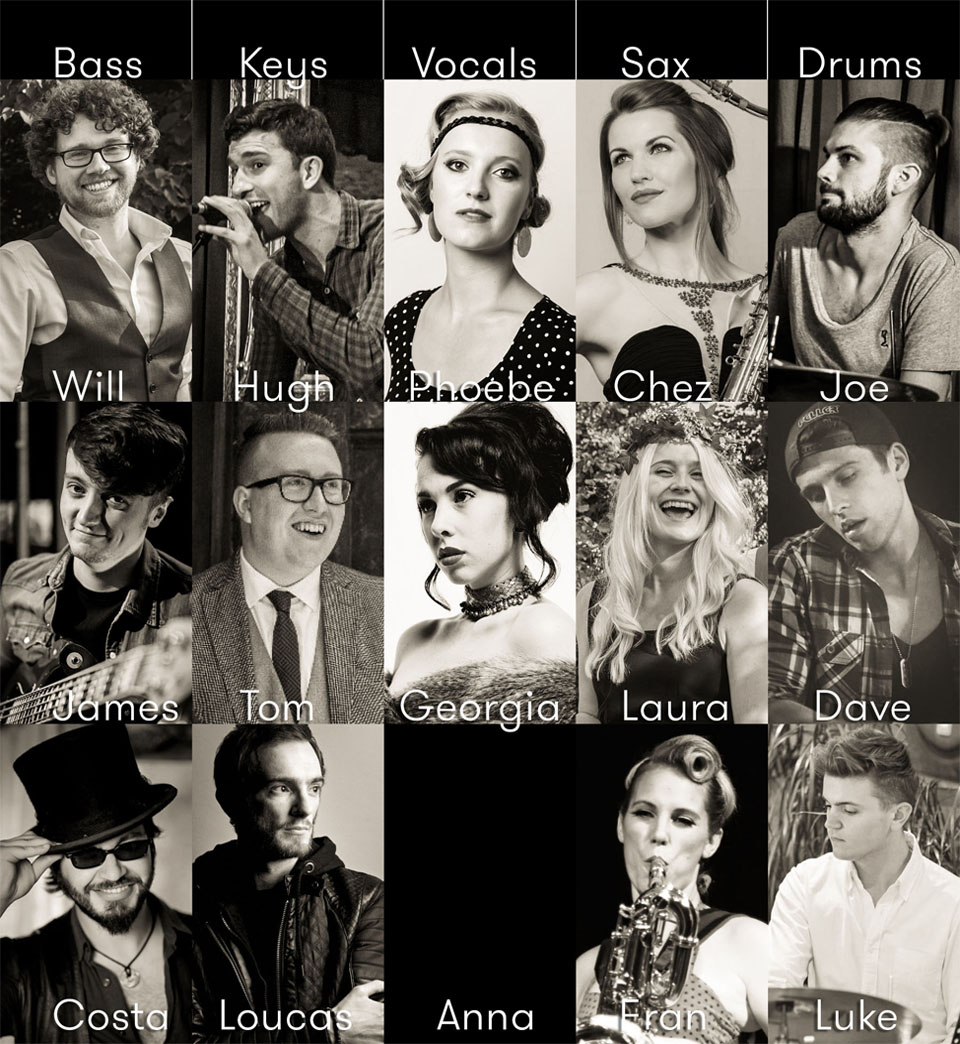 Our Clients
Over the years we have been lucky enough to play at some wonderful weddings and entertain at corporate events people and businesses such as:
The BBC
Grange Hotels
Bank of England
House of Lords
UK Lingerine Awards
Performance Marketing Awards
Hotel du Vin
The Roof Gardens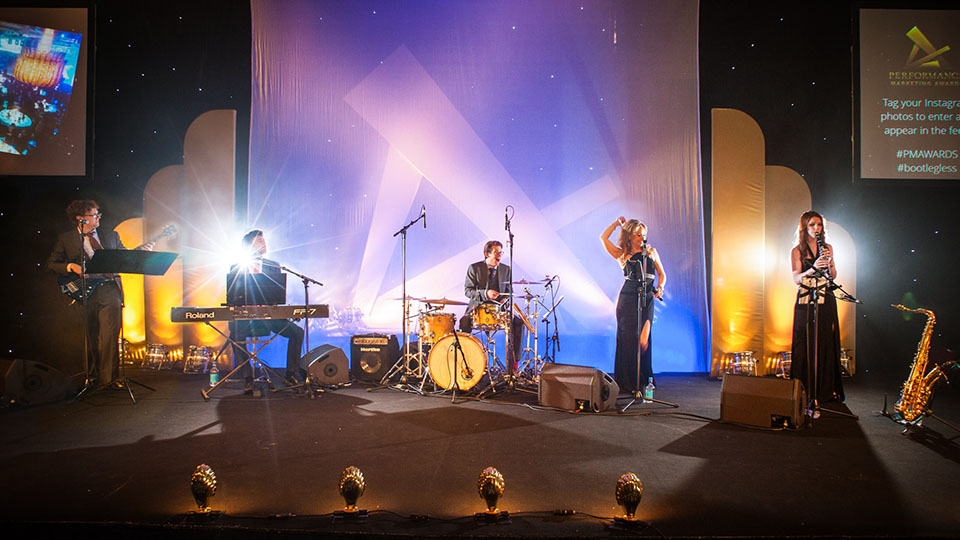 Testimonials!
Here are some wondefully kind words and praise that we have recieved:
"You were a real joy to watch, excellent entertainment and musicianship, and you can tell that you are really enjoying yourselves."
Chris Travers - BBC Radio 3 Marketing Manager
"Thank you again for your performance; it was simply effortless perfection, there is no other way to describe it"
Chris Collier-Smith - Private Client
"I have a complaint! You were so good you have made me late for work!"
Pat Tobin - BBC Television Centre
"You did such a great job of getting people on the dance floor from the beginning of your sets until the end. Everybody commented on your unique style and lots of our guests have been asking for your contact details for future parties and events."
Joe Winpenny - ProFitMe, Personal Fitness Investment
"The search for a band for our bar and restaurant was not easy...until we met Redstone Collective! Their repertoire is extensive, stylish and probably the best I have heard for a very long time. The modern touch given to their jazz music as well as the personality of each musician has transformed the atmosphere of our bar. They are very talented and will always bring something special to the place they play."
Clement Sargeni – Deputy General Manager, Hotel du Vin Tunbridge Wells
"Having you play at our wedding was definitely one of the highlights of our day. You gave us the perfect first dance - honestly, if Eric Clapton had come and performed for us it could not have been better! You gave the evening a very personal touch and many of our guests commented on your style and talent. The level of professionalism you all displayed throughout was outstanding: very sophisticated and engaging performances in the early evening which really set the mood. Then, later on, once again you gave us some fantastic music to really get up and dance to- an all-round incredible performance. I feel very privileged to have had you play on our special day. Thank you so much - I genuinely could not have chosen better music or musicians! I highly recommend to anyone looking for a band to get the Redstone Collective in, they will dazzle you."
Claudette Collier-Smith - Private Client
"Redstone Collective played at our wedding this year. They were very professional and prompt during the preparation, tailoring a set list and after providing expert feedback learning a song for our first dance. They also coped very well with the small space in our venue to perform as well as the bass sensitive noise limiter in the building. From start to finish of the set the dance floor was never empty and everyone from the teenagers to the grandparents were up dancing.We would not hesitate to recommend them."
Stephen Webster - Private Client
"We just wanted to say a (belated) thank you to you for being our wedding band at the end of March. You were spectacular, all our guests were enamoured with you! Everyone kept asking who you were and where we found you, they were truly, truly incredible. They definately made the evening, every single one of our guests danced, and were so disappointed when they announced their final song! We would highly recommend you to anyone for any function! And I am sure in the future people will be asking us to remind them of your name for their parties!"
Ruth Loamax - Private Client
"What an absolutely fantastic, entertaining, and engaging band. Guests from our wedding have been going out of their way to tell us how much they enjoyed their set. Everyone was up dancing, and my bride and I have some fantastic memories, especially singing along to the surprise "Fresh Prince of Bel Air" rap half way through - loved it!"
Stuart Henderson — Private client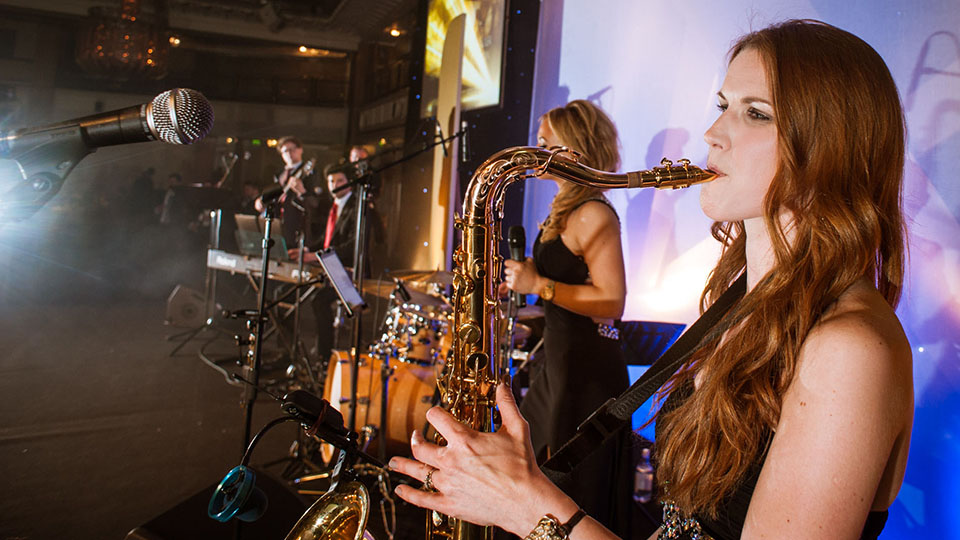 A little more detail about the band
Lineup — The band consists of: male and female vocals, saxophone, keys, bass and drums. The group can perform both background and upbeating dancing music.
Who is in the band? — We draw on an expanding pool of fabulous musicians but the primary band are Will, Hugh, Phoebe, Chez and Joe, the lovely people along the top of the photo below! If we need to use onf our deputy musicians we will always tell you!
Performance Options — we can perform as background entertainment for receptions and dinners, as the best vintage wedding band you have ever heard or the most swinging, energetic band for a corporate awards ceremony ot gala diiner..
Equipment — We bring our own sound engineer, professional sound rig and essential lighting.
First dances — Yes we can arrange them esspecially for you (of course!)
How much do we cost? — For a typical wedding, party or cororate event in London or the Home Counties the band costs between £1,805.00 — £2,030.00 depending on requirements.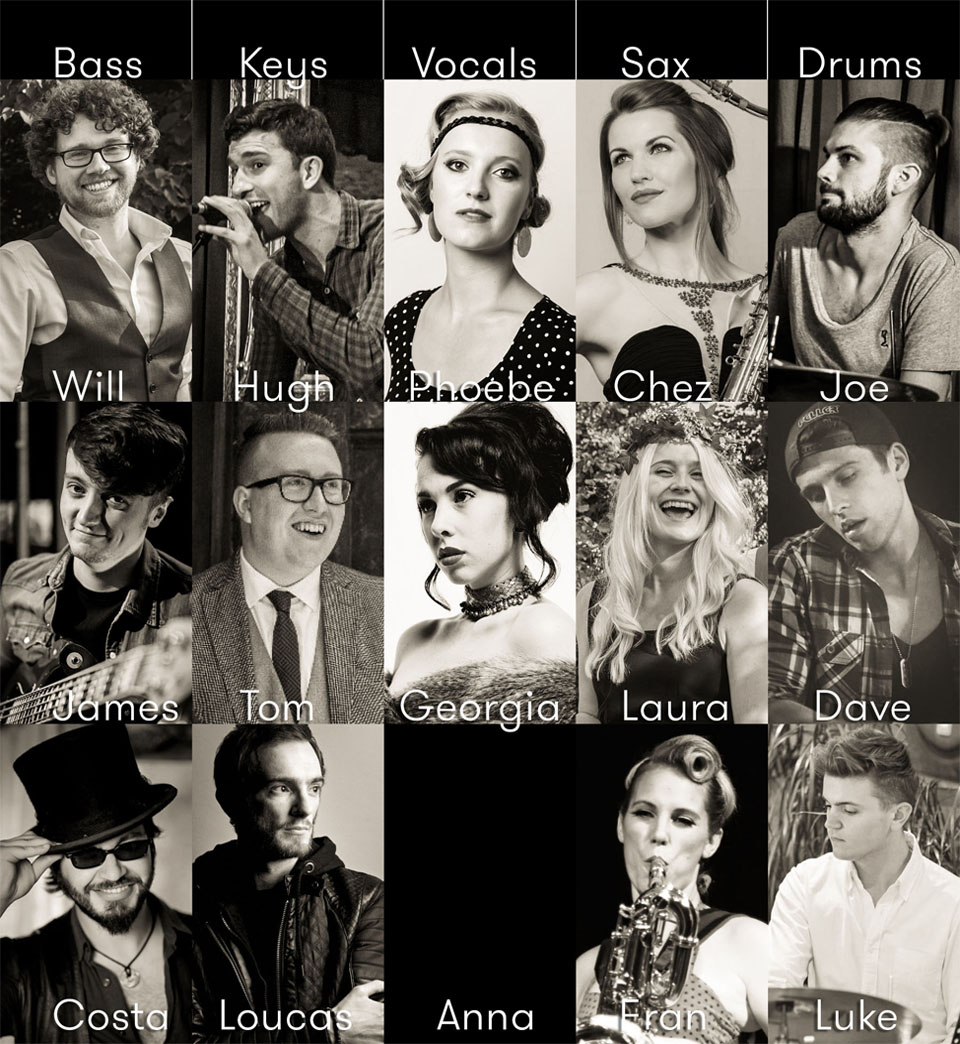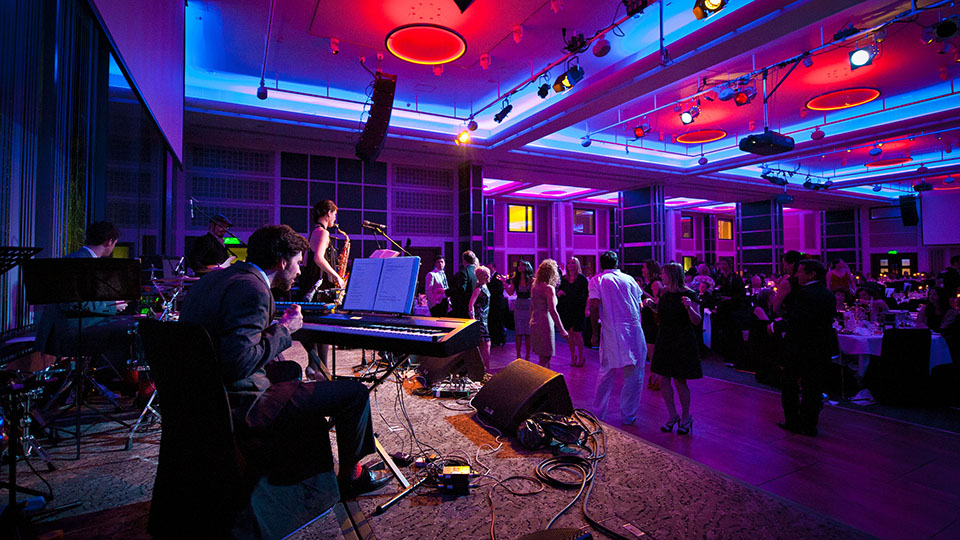 Our friends
Kings of Soul — a great function big band
www.kingsofsoul.co.uk
Andy and Sib — the looping wedding acoustic duo
www.andyandsib.com
Hugh Anderson — pianist and singer
www.hughanderson.co.uk
Eleanor Belle — pianist and singer
www.eleanorbelle.com
Oopsie Mamushka — roaming string group
www.oopsiemamushka.com
Los Amigos — the UK's No.1 Spanish band
www.losamigosband.co.uk
Sara Spade — vintage songstress
www.saraspade.com
Stormont London — some rather wonderful entertainmet agents
http://www.stormont.com/